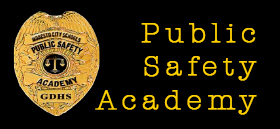 Mission Statement
The goal of the Grace Davis High School Public Safety Academy is to provide introductory opportunities in the area of public safety to students interested in professional public service occupations such as Police Officers, Fire Safety Officers, and Law Professionals. Together, in a partnership with community public service agencies, we will offer a comprehensive program of specialized training so that, upon graduation, students will be prepared for skilled entry-level jobs and/or entrance into colleges, universities, academies, or technical schools.
The Davis High School Public Safety Academy is a three-year "school within a school" program, with a recommended freshman pre-academy year, which offers a college preparatory academic curriculum as well as vocational experiences for students interested in careers in criminal justice and public safety. Our goal is to provide students with progressively higher levels of competence leading towards high skill, high-wage careers. We strive to introduce students to diverse public safety career opportunities so that, upon graduation, students will be prepared for skilled entry-level jobs and/or entrance into colleges, universities or technical schools.
This program provides a thematic approach for core courses in the field of public safety and career exploration. In the freshman year, the student will be introduced to the field of Public Safety through the pre-academy physical science, English, and health classes. The sophomore year introduces the academy concepts in the English, science, world history, and Public Safety Tech I classes. In the junior and senior years, students will continue to explore careers in public safety through their government, English, advanced math, and science classes, in addition to taking an ROP Criminal Justice Class. The PSA Program cannot exist without commitment from its members. It is therefore expected that students remain in the program for the years duration. Exiting the academy at the semester is not allowed.
We would like to encourage you to become a part of our program.
Upon the acceptance of an application, a 2.5 GPA is recommended.
A minimum of a 2.0 is necessary to meet Modesto City Schools eligibility requirements.
**Note: Students in the first two years of the Public Safety Academy will have a rigorous schedule. Pre-academy freshmen and sophomores may need to enroll in seven courses and/or summer school in order to meed CSU/UC a-f requirements as well as state and district graduation requirements. All Public Safety Academy core academic classes are college preparatory level and meet the CSU/UC admission requirement. A computer literacy challenge course is available for students who can demonstrate computer proficiency.
***As a staff, it is important to us that students and their parents be aware of the time and commitment that is required to be a part of this program. While the students will be given numerous opportunities that might not be available elsewhere, it is important to recognize the types of skills and behaviors that we will be trying to develop in our students. Our goal is for all students to succeed. If this is possible in our programs, it is our responsibility to help them find an area in which they can be successful.
You must return all of the following items, along with your ballot to your teacher or your counselor at the junior high you are currently attending.
Application Cover Sheet

Student Letter of Intent

Parental Letter of Support

Two Teacher Recommendations

Copy of Current Transcript

Copy of Attendance Record for the Past Year
Criterion for remaining in the Public Safety Academy
Upon application and/or acceptance to the Public Safety Academy, students and parents agree to uphold the following or they may be released from the program:*#
Maintain a minimum 2.0 GPA for eligibility purpose with a 2.5 GPA recommended.

Keep absences to a minimum.

NO unsatisfactory citizenship eligibility in order to participate in the PSA program activities.

Maintain academic and citizenship eligibility in order to participate in PSA activities such as job shadowing, field trips, speakers, etc.

Tutoring will be required for any student who has earned a D or below in any academy class, including math.
*Students may be placed on a behavior contract or academic probation for the remainder of the school year or be released at the semester if necessary.
#Students may not opt out of the PSA at mid-year. They will need to ballot out at the end of the academic year.
1. Will my student be missing out on college preparatory courses by being in the Public Safety Academy?
NO! All of the courses (English, history, science) are advanced level, college preparatory courses which meet the standards set by the California university system (both CSU and UC) as courses acceptable for application. This also applies to out of state colleges and universities. In addition, students wishing to take advanced placement courses may do so, but only out of the Public Safety Academy core classes, and no more than one period a day.

2. Are there Advanced Placement classes within the Public Safety Academy?
No, there are no AP offerings within the Public Safety Academy. However, we do have academy teachers who are willing to work with students who want to take AP exams in those courses.
3. How does the Public Safety Academy help my graduating student?
The academy has developed a portfolio that students will complete by their senior year. This Portfolio will help guide students in attaining letters of recommendation, certificates of merit, a resume, and documents that will be helpful for the students who are interviewing for career positions or college acceptance. The most impressive part of the student's portfolio will be the fact that they have made a commitment to a three to four year "Academy" program and completed it.
4. What is the value of the Regional Occupational Program (ROP)?
The ROP experience is designed to give students hands-on experience in a real, live workplace. Technology programs such as criminal justice or other ancillary programs look favorably on this type of experience because the students have had an opportunity to "test drive" their field of choice. These students are not as apt to change their minds in the middle of a program.
In applying for a job, the ROP student has a clear advantage over other applicants because of experience within the criminal justice community. Many times students get caught in the loop of not being employable because they lack experience and cannot get experience because they have never been employed.
Additionally, there is a certain amount of "networking" that occurs between students and professionals in the criminal justice community. In other words, professionals tend to remember our students.
5. How will the PSA help students attain their goals?
It is important for us to provide students with career information from a variety of sources. We look to the public safety community for partners in education who are willing to work with us and our students. We provide information about a number of careers. We encourage students to see people in the public safety profession through job shadowing, mentorship, and apprenticeships so they know more people are involved in public safety than just police.
6. How can the PSA be reached?
Our public safety Academy office number is 576-4592. Our PSA office fax is 576-4028.