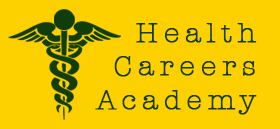 The Health Careers Academy is a grant funded California Partnership Academy Program. It is a "school within a school" that offers academic curriculum as well as vocational experiences for students interested in careers in health care. Students are introduced to diverse health career opportunities to prepare them for skilled entry-level jobs and/or entrance into colleges, universities, or technical schools.
Our goal is to provide students with progressively higher levels of competence leading towards high skill, high wage careers. In addition to specific career education courses in the 10th, 11th, and 12th grade years, students will have access to: job shadows, guest speakers, field trips, leadership opportunities, HOSA Club participation, hands on skill development, college credit, advanced placement credit, and scholarships. These diverse career opportunities are designed so that, upon graduation, students will be prepared for entry-level jobs and/or entrance into colleges, universities, or technical schools.
We would like to encourage you to become a part of our program.
1.8 GPA or Higher

Complete on-line application
To enhance your application please complete:
A student letter of intent

Letters of Recommendation
In order to be admitted into the Health Careers Academy, students must..
Complete the Health Careers Academy Application process on-line.

Be approved by the committee that reviews New Admission Applications
Criterion for remaining in the Health Careers Academy
Tutoring will be required for any student who has earned a D or below in any academy class, including math.
1. Will my student be missing out on college preparatory courses by being in Health Careers Academy?
No. All of our core courses (English, history, science) are advanced level, college preparatory courses which meet the standards set up by the California university system (both UC and CSU) as courses acceptable for application. This also applies to out of state colleges and universities. In addition, students wishing to take advanced placement courses may do so, but can only be out of the HCA core classes and no more than 1 period each day. If you know what school your child will be attending after high school, contact the department of admissions and check with your student's counselor regarding specific requirements. More prestigious schools will have a more rigorous protocol for admission.
2. How does the HCA help my graduating student?

The Academy has developed a portfolio that the students will complete by their senior year. This portfolio will help to guide students in attaining letters of recommendation, certificates of merit, a resume, and documents that will be helpful for the student who is interviewing for career positions or college acceptance. The most impressive part of the student's portfolio will be the face that they have made a commitment to a four-year "Academy" program and completed it.
3. How will the HCA help students attain their goals?
It is important for us to provide students with career information from a variety of sources. We look to the health care community for partners in education who are willing to work with our students and us. We encourage students to be realistic in their career goals. We also provide opportunities for our students to see people in health professions through job shadowing, mentorships, and apprenticeships so they know more people are involved in health care than just doctors.
4. How can the HCA be reached?
If you have questions you can contact the program coordinator, Denise Olsen, at olsen.d@monet.k12.ca.us